This is an overview of my work in theater, as a freelance actress and a producer.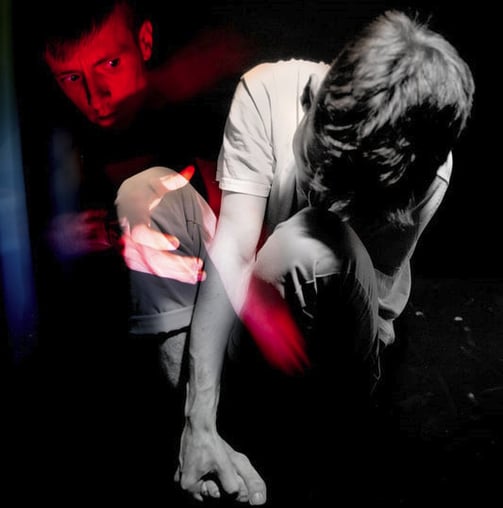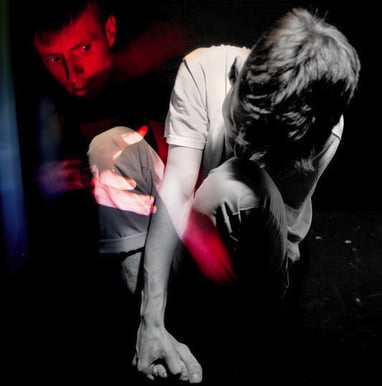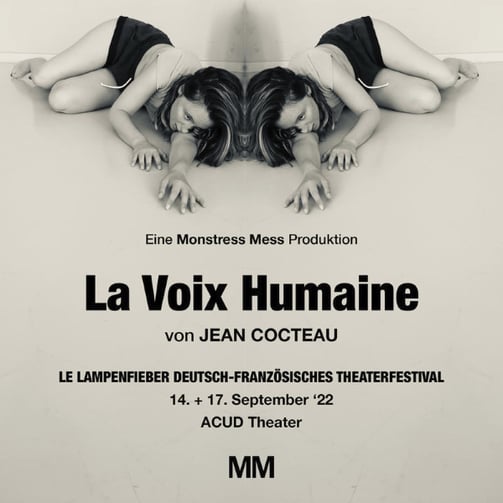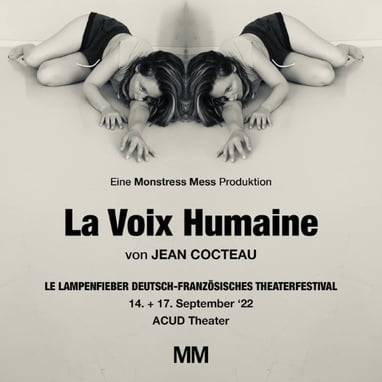 2022
Actress in the role of JULE
and Production Manager

LA VOIX HUMAINE
In this interpretation of the French classic ´La Voix Humaine', Monstress Mess presents Cocteau´s 1930s Parisian wounded beast in all her glory, alongside another woman existing in present day Berlin. It is a sonic exploration into the intimacy of the human voice through the lens of two women; who lead very different lives, but who are both connected by the bittersweet relentless rollercoaster that rides it's way through the body and the psyche, activated by a broken heart. With live voice manipulation and sound curation from French-Austrian sound art duo Ekheo. Spoken in French and German, with English subtitles.

Tasks Organisation, Administration, Finance



2022

Research Grant

ICH SEHE WAS, WAS DU NICHT SIEHST
'Ich sehe was, was du nicht siehst' schlägt eine Brücke zwischen der abgeschlossenen Recherchearbeit 'Unsichtbare Armut' und einem künstlerischen Konzept. Die dokumentarische Recherche ist nun abgeschlossen, aber wie verfährt man weiter? Das Recherchevorhaben soll eine engere emotionale Bindung zu den Protagonist*innen der Geschichten herstellen und sie Teil am künstlerischen Konzept haben lassen.

Tasks Research and Organisation​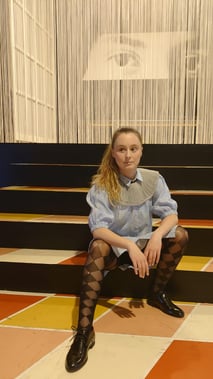 2022

Actress in the role of LILI

DIE LETZTE NACHT DER LILI BOULANGER
Neuköllner Oper
From the perspective of her dying hour, LILI recounts episodic memories of special moments.
​





2022

Research Grant

EMBRACEABLE YOU
Every couple has their own unique dynamic, a kind of unspoken contract that directs their behaviour and communication. This project will present, contrast, compare and dissect a variety of relationship dynamics, providing a lense through which the audience can reflect on their own relationships.

Tasks Research and Organisation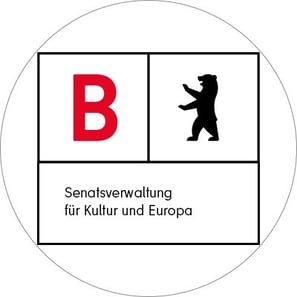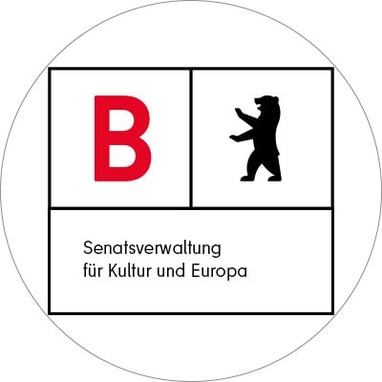 2021

Research Grant

DARK FIELD
​A Monstress Mess Production
'Dark Field' is a theater production, which will follow the story of non-offending pedophile 'Adam' (as featured on 'This American Life'), and is intended to raise awareness of the existence of pedophiles who successfully manage their attractions and do not commit crimes against minors.

Tasks Production Manager


2021

Research Grant

UNSICHTBARE ARMUT
A Monstress Mess Production
This project deals with poverty that is not visible at first glance. People in the middle of society, here in Germany. People without health insurance. People who regularly have their electricity and telephone cut off. People who find themselves in a vicious circle of debt.

Tasks Concept, Idea, Research

2020

Performer and Production Assistant

DISTANZ
a dance performance refelcting on the lives of artists' during the pandemic
Premiere: 11.07.2020 Brandenburg Gate
Performances: Christopher Street Day Berlin, Berlin Burlesque Festival, Gängeviertel Hamburg

Tasks Performer, Public Relations, Funding, Social Media

2020

Actress in the role of Ms. Y and Producer

THE STRONGER (August Strindberg)
a production by Monstress Mess.
1 Text. 2 Women. 4 Versions.
​
Planned Premiere: 02.05.2020 at Brotfabrik
​Planned performances: 5 at Brotfabrik and 4 at Theaterhaus Mitte
All postponed until further notice.

Tasks Production Manager, Finances, Funding, Schedule, Artistic Advisor, Actress

2020

Artistic Advisor, Administration and public relations

MONEY MATTERS
a production by Platypus Theater.
A play about the financial inequalities in our society. The play is aimed at the fourth to sixth grade.

Premiere: 29.10.2020 at ufaFabrik

​Tasks Assistant Production Manager, Artistic Advisor, Outside Eye, Artistic Advisor, public relations, social media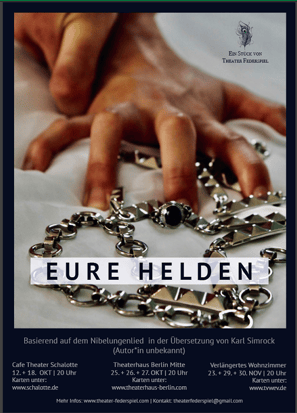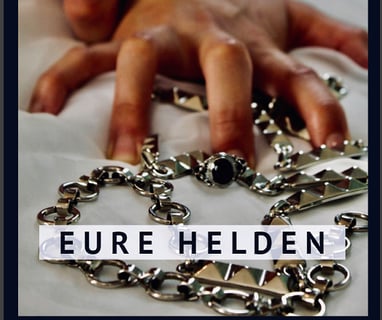 2019

Actress in the role of Brühnhilde of Island

EURE HELDEN
a production by Theater Federspiel
A modern adaptation of the Nibelungen Saga

Premiere: 12.10.2019 at Café Theater Schalotte
Performances: 18.10.2019 at Café Theater Schalotte; 25.-27.10. at Theaterhaus Mitte, 23., 29., 30.11. at Verlängertes Wohnzimmer
2019

Producer and Actress

MONSTRESS MESS
MONSTRESS MESS is a Berlin based theatre collective created by Lucie Aron, Rebecca Scott und Judith Shoemaker.

Interested in human behaviours, intimacy, social issues with a certain fascination for outsiders.
​
Taking a look at the monsters of our messy world through a woman's point of view.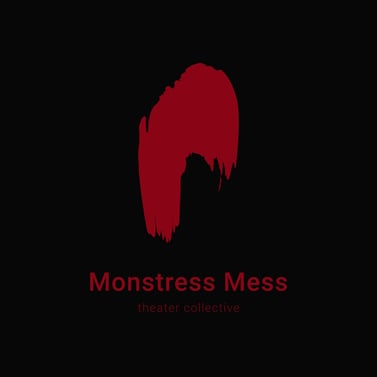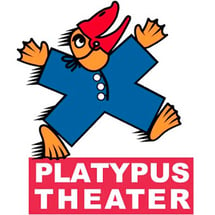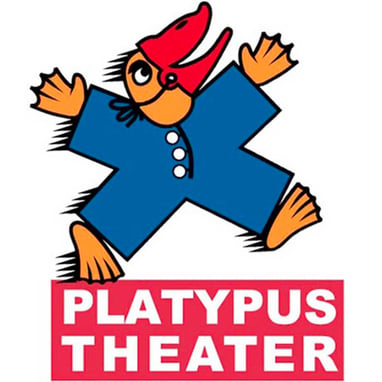 Since 2018

Actress in the role of IDA
​
DIE FLEDERMAUS
​at Deutsche Oper Berlin
The Vienna Classic by Johann Strauß

Premiere: 28.04.2018
​

2018

Actress in the role of Lady Henry
​
DORIAN GRAY
​a Theater Federspiel Production
An adaptation of Oscar Wilde's novel.

Premiere 19.05.2018 at Café Theater Schalotte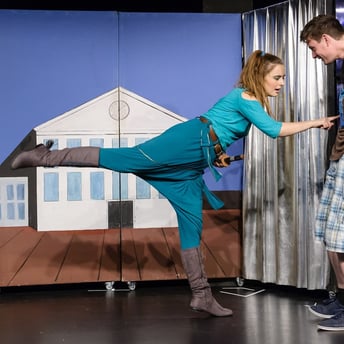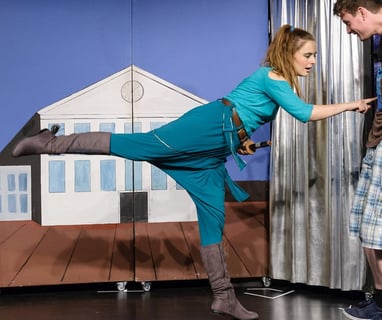 Since 2016

Actress in the role of Camilla

TOP CARD CAMILLA
a production by Platypus Theater.
A bilingual play about a very special collection. Recommended for grade 3 and 4 (from first year of learning English) or ages 6+

Premiere: December 2016 at BKA-Theater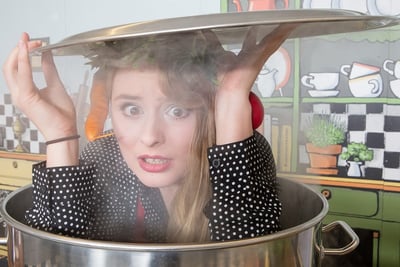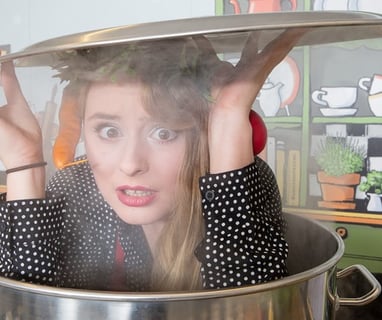 Since 2015

Actress

BETWEEN THE LINES
​a production by Platypus Theater.
Undercover through the USA. Recommeded for grade 8 and 9 (from sixth year of learning English) or ages 12+

​Premiere: 15.10.2015 at ufaFabrik


2014

Actress

LUCKY LADIES
A Schwebebühne Production
Six ladies trying to find a flat in Berlin.

Premiere: 02.12.2014 at Vagantenbühne

Since August 2018

Administration, public relations, accounting, booking

Platypus Theater
An independent Berlin-based theater group, which develops and produces English-language or bilingual plays for children and teenagers.

Tasks Artistic administration, public relations, accounting, funding applications, scheduling, communication, media, bookings


2019-2020

Performer

EXTINCT CREATURES BALLET
Dance Protest Extinction Rebellion

Premiere: September 2019